Oleg Professional Flutes, Headjoints and Enhancers
Oleg Double Parabola Flutes and Headjoints represent major advancement in flute acoustics. Great immediate results in a fraction of practice time.
Low Bb Lever Link
LBLL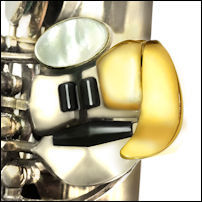 Oleg Saxophone Enhancers improve the ergonomics and ease of playing for most professional vintage and contemporary saxophones. These jewelry-quality enhancers are easily clipped on or attached with screws and wrench (included).
The newly redesigned Low Bb Lever Link Assembly (2-piece assembly) makes pinky-finger transitions on the left hand smooth and easy. It eliminates the awkward Bb jump and perfects hand ergonomics.
Model #108: Selmer SBA, Balanced Action Alto, Tenor, Baritone
Model #120 - King Super 20 Alto, Tenor

Enhancer Finish
Gold Finish (no additional cost) (0) White Rhodium (30) Antique Brass (30) Solid Sterling Silver (130)
Low Bb Lever Link Type
Model #108 - Selmer SBA, BA Alto Tenor, Baritone (0) Model #120 - King Super 20 Alto, Tenor (0)