Palm Key Riser - Soprano Alto, Tenor & Baritone
116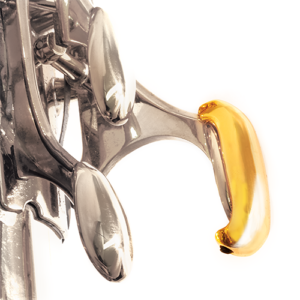 The Palm Key Riser brings the palm keys 7mm (.28 in) closer to the left hand. The new ergonomic reach increases speed and ease of playing, and creates a healthier position for the muscles of the hand and wrist. Many people find the ideal combination is to use one palm key riser on the High D Key and another palm key riser on the high F key.

Our website offers Palm Key Risers as single pieces. If you would like to order a set, simply increase the quantity of your order to the desired number.
Works on vintage Soprano saxes with irregular palm keys as well as Alto, Tenor and Baritone.
Brand:
Oleg Products, Inc.
Enhancer Finish
Gold Finish (no additional cost) (0) Silver Finish (30) Antique Finish (30) Solid Sterling Silver (130)
Type
#116 Universal: For saxes with irregular/vintage palm keys (0) #105 Contemporary & MKVI: For saxes with modern-style palm keys (0)