Bio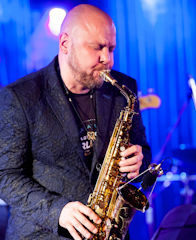 Being a member of "Igor Butman Big Band, Alexander has a great experience of stage performances with such world stars as: Eric Marienthal, Wynton Marsalis, Chick Corea, George Benson, Gary Burton, Billy Cobham, "New York Voices" band, Randy Brecker, Joe Lovano, Joe Locke, Paul Bollenback, Toots Thielemans, Dee Dee Bridgewater, Nataly Cole, Kevin Mahogany, Dave Valentine ("Caribbean Jazz Project"), Yuri Bashmet's orchestra "Soloists of Moscow", Chamber Orchestra "Moscow Virtuosi" directed by Vladimir Spivakov.
In the fall of 2003 Alexander performed in New York together with "Igor Butman Big Band" & "Wynton Marsalis Big Band" for the first time in prestigious "Alice Tully Hall", where he played solo in "Ready Go" blues along with the baritone-saxophonist Joe Temperley. This performance was marked by the reviewer of the "New York Times" and he has participated in recording of the new Big-Band's albums: Eternal Triangle, Special Opinion, Sheherezade's Tales , Moscow @ 3 p.m. , Jazz Carnival featuring Larisa Dolina.
Performances at Festivals:
August 2004: International "Jazz Festival at The Hermitage Garden", (Moscow)
June 2005: International Festival "Usadba Jazz at Arkhangelskoe", (Moscow)
June 2015: Festival "The Beatlesmania" at Igor Butman's Jazz Club on Taganka Square, Special Guest – Victoria Newman (vocal), (Moscow)
July 2016: International Jazz Festival of Igor Butman "Jazz Seasons at Gorki Leninskie" ,(Moscow)
May 2017: "Thanks for the love " – the concert in memory of Batyrkhan Shukenov (ex-soloist of "A-Studio" group) together with special guests : french drummer Nicolas Viccaro and moscow bass-guitar player Anton Davidyants, (Alma-Aty, Kazakhstan);
June 2017: "Summer Jazz Festival" in Tver Philharmonic, (Tver)
August 2017: International Jazz Festival "Sochi Jazz Festival", Special Guest: Igor Butman, (Sochi)
November 2017: International Jazz Forum "Jazz Across Borders", Special Guest: Igor Butman, (Saint-Peterburg)
March 2018: International Jazz Festival of Igor Butman "Triumph Of Jazz" at Moscow International House of Music, Special Guest: Igot Butman, (Moscow)
April 2018: International Jazz Festival "International Jazz Day 2018", (Saint-Petersburg)
June 2018: "Jazz Festival" at CC "Dubrava", (Sergiev Posad)
uly 2018: International Jazz Festival "Jazz at the Old Fortress", (Novokuznetsk)
Currently a Musician's Team of the project is :
Alexander Dovgopoly – alto-saxophone , flute, EWI AKAI
Victoria Newman – vocal
Vyacheslav Bystrov – keyboards
Maxim Shibin – guitar
Evgeny Panfilov- bass-guitar
Dmitry Poteychuk – drumms
Vladimir Galaktionov – trumpet
Alexander Dovgopoly Project is resident of such Moscow clubs as "Igor Buman's Jazz Club" on Taganka Square and "Alexey Kozlov's Club". In December of 2016 the Group released single "Free" on IBMG Label (Butman Music Production) in the form of EP (Extended Play).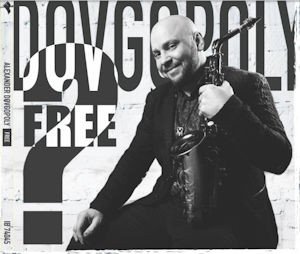 Links on I-Tunes и Soundcloud: https://itun.es/ru/gxxxgb
1. "Free" – https://soundcloud.com/dovgopoly/free-22
2. "Brazilia Bossa" – https://soundcloud.com/dovgopoly/brazilian-bossa-new-22
3. "Enjoy" – https://soundcloud.com/dovgopoly/enjoy-2016
4. "Shining Dreams" – https://soundcloud.com/dovgopoly/shining-dreams-22
5. "Gato" – https://soundcloud.com/dovgopoly/gato-22
6. "Rain Samba" – https://soundcloud.com/dovgopoly/rain-samba-best
Links on Video (instrumental):
1. "Free" – https://youtu.be/rxbUQ652LQU
2. "Gato" – https://youtu.be/D5qI95exG7Y
3. "Come Together" – https://youtu.be/8Wfcmhtyd6c
4. "Summer Sketches" – https://youtu.be/7jCN-X5uVxg
5. "Run For Cover" – https://youtu.be/hIDYyHzgKGM
6. "Alexander Dovgopoly The Best Mix"- https://youtu.be/K_QoqBc-yYw?list=PL3CD990893720E83D