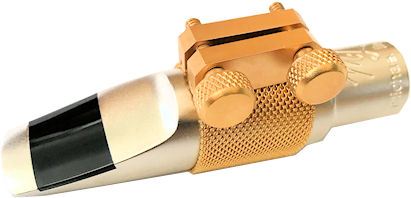 "Incredible. The Olegature finally opened the door to my true sound."
– Benny Golson
Watch Benny Golson playing with the Olegature in the movie 'The Terminal' with Tom Hanks.
Realize the full potential of your sound with the revolutionary Olegature. The unique wire mesh design vibrates with the reed, allowing for perfect intonation, incredible response, and the most powerful sound.
Maximizes resonance and minimizes dampening
Preserves the reed's natural vibration and harmonic range
Gorgeous jewelry quality craftsmanship
Available for all makes and models of saxophone and clarinet mouthpieces
Comes in gold, silver, black nickel, and antique copper finishes.
"The response time was amazingly swift while the sound was strong and full. My former mouthpiece felt almost unplayable!" – Dave Leibman
Unlike other ligatures, Olegature's patented chain mesh design maximizes the reed's natural harmonic modes and brings dampening to the minimum physically possible. This results in vast improvements to the timbre, response, intonation, and power. Musicians and listeners often describe the sound as having a fuller presence, or the way hearing live music sounds more alive than a radio recording.
"Thanks for all the inspiration over the years and for making great mouthpieces and ligatures forever!" – Mindi Abair
The Olegature's sensitivity to screw tightness allows the musician to create a deeper, darker sound, the brightest, sharpest sound, and everything in between. This makes the Olegature an excellent choice for musicians who perform both as soloists and in group settings.
Available for all sizes of saxophone and clarinet mouthpieces, the Olegature is traditionally made with a brilliant, shiny gold finish. Olegatures with silver, antique copper, or black nickel finishes are available for custom orders. Each comes in a beautiful case with an anti-slip ligature grip and a helpful instruction manual.