Oleg Saxophone Mouthpieces
Oleg saxophone mouthpieces are especially designed for the discriminating musician who demands evenness of tone, quick response, a full dynamic range and quality craftsmanship.
Most sax mouthpieces have a narrow "sweet spot" which doesn't allow much tonal flexibility and dynamic range, especially in the high register. Oleg sax mouthpieces are designed to play in tune with a full resonant tone while accommodating the wide range of different embouchures. These sax mouthpieces are immediately comfortable and require virtually no break-in time.
New : Oleg Contempo Vector Alto Sax Mouthpiece
We are introducing a new addition to the Oleg line of saxophone mouthpieces: the Contempo Vector metal alto mouthpiece. This newborn alto piece lives up to its Vector name with powerful, direct, yet easy controlled sound projection. At the same time, it maintains an Oleg legendary sound response and superb pitch stability and definition. While sustaining all of the advanced features of the Oleg design concept, the Contempo Vector alto mouthpiece adds a little more zing to the sound so much coveted by the contemporary smooth jazz artists.
The Contempo Vector is available in high luster and matte 24k gold, white rhodium plate finishes, and optional combinations of textures and colors.
Available in 24K Gold or White Rhodium (looks like silver) finishes.
Special Textures are also available
Gold Plus – Sandblasted Matte and Bright Combo
White Rhodium Plus – Sandblasted Matte and Bright Combo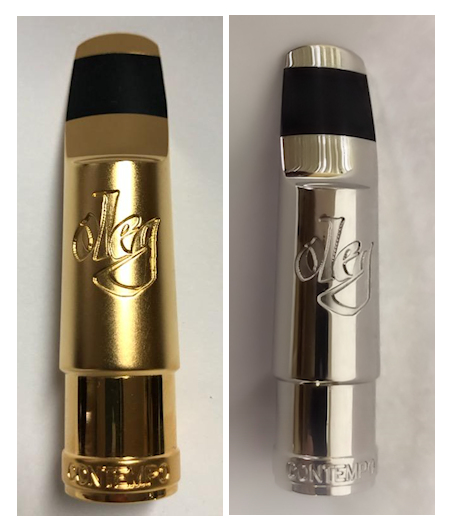 Oleg Contempo Mouthpieces
Perfect for Jazz and Soloing, the Oleg Contempo Mouthpieces produce a huge, powerful, contemporary sound. Pop with a dazzlingly bright sound or a darker, seductive tone, the Contempo line is incredibly versatile. Famous jazz saxophonists Michael Lington and Mindi Abair have stunned audiences for years on the Oleg Contempo Alto Mouthpiece. Available for Soprano, Alto, Tenor, and Baritone.
Oleg Maestro Mouthpieces
The Oleg Maestro Mouthpiece line offers the most resonant, easy to play, in-tune sound possible, and is great for both jazz and orchestral music. Play with a beautiful, rich tone signature of the Oleg Optimized Acoustics method. Available for Tenor and Baritone Saxophone.
Handcrafted in USA
Custom made Oleg sax mouthpieces are manufactured at our facility in Los Angeles and available in Silver and Gold finishes for Soprano, Alto, Tenor, & Baritone Saxophones.