Special Downbeat Magazine Offers
Welcome Downbeat Magazine Readers!
Thanks you for visiting our site and your interest in our products.  We are offering Downbeat readers some special offers that will allow you to experience the WOW factor that so many performing jazz saxophone, clarinet and flute artists worldwide have enjoyed.
10% Off – Use Discount Code "DOWNBEAT10"
Realize the full potential of your sound with the revolutionary Olegature. The unique wire mesh design vibrates with the reed, allowing for perfect intonation, incredible response,and the most powerful sound.
"Incredible. The Olegature finally opened the door to my true sound."
-Benny Golson
• Maximizes resonance and minimizes dampening
• Preserves the reed's natural vibration and harmonic range
• Gorgeous jewelry quality craftsmanship
• Available for all makes and models of saxophone and clarinet mouthpieces
Learn about the amazing acoustic properties of this ligature.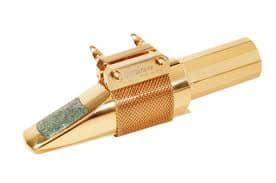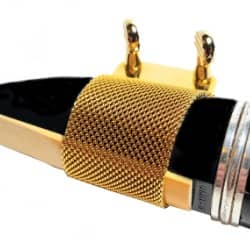 Michael Lington Alto Mouthpiece
10% Off – Use Discount Code "DOWNBEAT10"

The new Official Michael Lington Alto Mouthpiece is a favorite amongst professionals for its wide "sweet spot", making it effortless to play right from the start with no awkward adjustment time needed for other brands of mouthpiece. This mouthpiece is designed for precision and evenness across the horn's entire range, making it excellent for jazz soloing. Each Michael Lington Alto Mouthpiece is hand-refined to perfection for every note, giving you the richest harmonic range and the fullest, most resonant sound.
Learn more about the official Michael Lington Alto Sax Mouthpiece.
Oleg Curved Baritone Sax Neck
10% Off – Use Discount Code "DOWNBEAT10"
Introducing the Revolutionary New Curved Baritone Neck – the fist and only in the world to create an ergonomic solution to baritone saxophone. The elegant curve raises the horn three inches higher than traditional necks, dramatically improving the musician's posture. This reduces and prevents pain, nerve damage, and muscle strain in both the neck and hands.
Learn more about the acoustical and ergonomic properties of the Oleg Curved Bari Sax Neck.