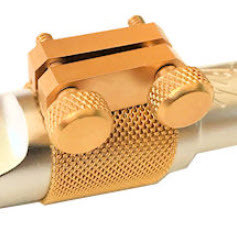 Olegature
SKU 305
Product Details
NOTE: Custom finishes are made-to-order and can take up to two weeks in production.
Available for all sizes of saxophone and clarinet mouthpieces, the Olegature is traditionally made with a gold matte. Olegatures with 24K shiny gold, white rhodium, black rhodium and antique brass finishes are available for custom orders. Each comes in a beautiful case with an anti-slip ligature grip and a helpful instruction manual.
Olegature Finishes
About Rhodium: Rhodium is a rare, bright silvery-white, durable, corrosion-resistant precious metal in the Platinum family. We have chosen this precious metal to give you a durable, long lasting finish on your Olegature.
Olegature Sizing Chart.
If you don't see your mouthpiece model listed, we are happy to make a custom-fit ligature for you.

Check out the Olegature Custom Sizing Instructions for more information.
The science behind the Olegature
"Incredible. The Olegature finally opened the door to my true sound." – Jazz Legend, Benny Golson

Read the NPR Article about Benny and the movie
"The response time was amazingly swift while the sound was strong and full. My former mouthpiece felt almost unplayable!" – Dave Leibman
"Thanks for all the inspiration over the years and for making great mouthpieces and ligatures forever!" – Mindi Abair
Save this product for later