Oleg Equipment:
Oleg Maestro Alto Saxophone
Oleg Maestro Curved Soprano Saxophone
Olegature
What They Are Saying
"A former music teacher once said that there was no such thing as the perfect saxophone, then I met Oleg" – Isaac Agúndez
Bio: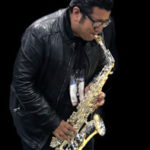 Isaac is a successful jazz saxophonist in the San Diego area who has been playing professionally since 2005. His musical career began in high school, where he was first aquainted with the saxophone and quickly developed a deep admiration for its rich sound and versatility. Wanting to grow as a musician, he had the opportunity to learn from on of the most respected saxophonists in the industry, Eric Marienthal, who was able to help him further expand his knowledge.
He's had the opportunity to play with various artists and bands, such as the San Diego Symphony, Jose Feliciano, Marily McCoo & Billy Davis Jr., Gabe Terrado, Gadiel Espinoza, and Tommy Aros.
Apart from being a successful saxophonist, he is also a music educator who has given workshops at the University of Guadalajara CuSur in Ciudad Guzmán, México and at San José College in Cancún México. He has also taught Jazz, Music Theory & Improvisation clinics in California, Mexico and Latin America.
Currently he is working on his first solo album.