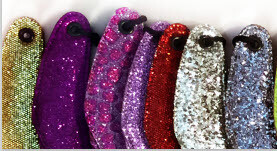 Oleg Showtime Ergonomic Sax Straps
SKU 302-Showtime
Product Details
Choose from our selection of Limited Edition Oleg Ergonomic Sax Straps to add some style to your comfort! Made from gorgeous specialty American leathers or luxury fabrics, our Limited Edition selection uses the same amazingly comfortable ergonomic design of the Original Oleg Ergonomic Strap. These make for excellent gifts for any special occasion.
Designed to alleviate pressure-caused discomforts of conventional straps, each strap features a recessed neck cushion, smooth action sliders and an easy release hook. Stand out with a dazzling mini glitter strap or add some subtle personality to your set-up with a Limited Edition Oleg Ergonomic Sax Strap!

Strap Design

Choose from any of our gorgeous strap designs.
Save this product for later