Oleg Equipment:
Oleg Maestro Tenor Sax, Oleg Tenor Neck, Olegature, Contempo Tenor Mouthpiece
Website:
www.markfoxjazz.com
Bio: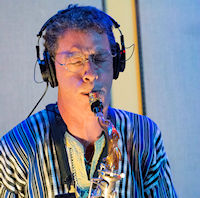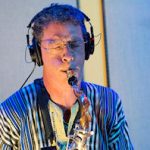 Mark Fox, tenor & soprano saxophone, flute, bass clarinet and kamal/donso ngoni (Malian harp) player, bandleader, composer/songwriter and recording artist, as well as artistic director has participated for over 25 years professionally in the international music and entertainment industry. Read More
What They Are Saying
"Oleg's products have completely transformed not only my playing but my sound as well. When I moved from a standard ligature to the Olegature, there was an immediate and noticeable resonance and brilliance shift in my sound, as well as the ability to subtly color my sound based on how the ligature is adjusted on the mouthpiece.
When I tried Oleg's tenor neck on my factory silver Selmer Mark VI, the entire horn was transformed. Responsiveness, intonation and resonance all opened up on the horn, as well as the freedom and ability to flow into the altissimo registers. Oleg's hard rubber "Contempo" tenor mouthpiece, which I was one of the first artists to play it, again completely opened up new dimensions on my horn and in my playing. The ease of response, available colors and textures, and extensively broad dynamic range is just wonderful. Finally, and probably most significantly, I recently received Oleg's masterpiece of a tenor saxophone, which he made for me in a matte silver plating with polished engraving and key-work. This is the most incredible saxophone I've EVER played. Oleg's genius in acoustics shine in all his products, but with the saxophone, it's profound. Beyond being a work of art itself as a saxophone, the intonation, not only of the sounding notes, but the passive harmonics within each note is the best I've ever played. It's even resonance, dynamics, even intonation throughout the range of the horn and way into the altissimo registers, and color are unparalleled to anything I've ever played." – Mark Fox