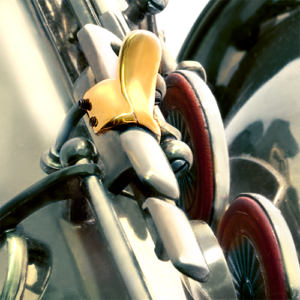 High E Stopper
SKU 103-G
Product Details
Oleg Saxophone Enhancers improve the ergonomics and ease of playing for most professional vintage and contemporary saxophones. These jewelry-quality enhancers are easily clipped on or attached with screws and wrench (included).
The High E Stopper saxophone enhancer is designed to improve the ergonomics and stabilize the High E side key. This enhancer changes the shape of the High E from flat to curved, which allows the player to automatically feel where the key is instead of having to guess blindly.
Designed to fit all makes & models of alto, tenor, and baritone saxophones. Most commonly used on Selmer MKVI.
Save this product for later