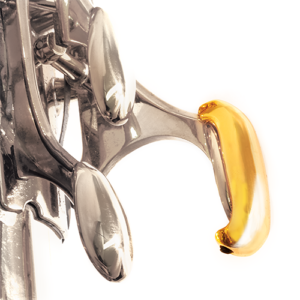 Palm Key Riser for Soprano - Selmer MKVI & Yanagisawa
SKU 204
Product Details
The Palm Key Riser brings the palm keys 7mm (.28 in) closer to the left hand. The new ergonomic reach increases speed and ease of playing, and creates a healthier position for the muscles of the hand and wrist. Many people find the ideal combination is to use one palm key riser on the High D Key and another palm key riser on the high F key.
For Selmer MKVI & Yanagisawa.

Our website offers Palm Key Risers as single pieces. If you would like to order a set, simply increase the quantity of your order to the desired number.
Save this product for later